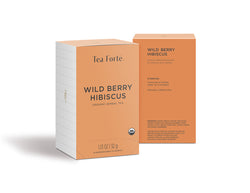 WILD BERRY HIBISCUS FILTER BAG
A berry blend brightened by hibiscus and rosehip.
Contains 16 biodegradable filter bags.
Ingredients: Organic hibiscs, Organic apple pieces, Oranic licorice root, Organic blackberry leaves, Organic orange peel, Organic rosehip, Organic raspberries and Natural flavours.
STEEPING
Infuse tea in near boiling water for 2-3 minutes.
TEA TYPE : HERBAL TEA
Aromatic and awakening, Tea Forte's Wild Berry Hibiscus tea is a tart and sweet infusion of juicy berries and sun-ripened citrus with sophisticated floral notes. Ingredients include organic hibiscus, organic apple, organic licorice root, organic blackberry leaves, organic orange peel, organic rosehips, and organic raspberries from Poland. Finished with natural flavors of berry, this tart and exotic blend steeps to a bright red hue. Naturally caffeine-free, Wild Berry Hibiscus tea is Kosher certified and USDA organic. Hibiscus teas have been used as an herbal remedy for centuries, reportedly effective in lowering blood pressure and sought after as a treatment for hypertension. Wild Berry Hibiscus is an herbal tea, which are properly referred to as "tisanes" or infusions, crafted from dried herbs, flowers, leaves, roots, seeds and fruit. Like tea, herbal infusions have been consumed for centuries as healing tonics to lift the spirit and enhance well-being. Our Herbal blends are hand crafted with artisan care and a vast knowledge of how the antioxidant properties and therapeutic applications of pure, fresh herbs, flowers, and botanicals, deliver delicious healthful infusions that can delight both mind and body.