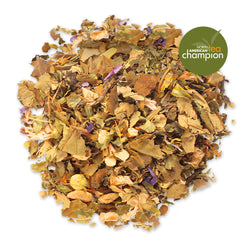 WHITE GINGER PEAR
Delicate white tea leaves plus a hint of pear and spicy ginger.
TASTING NOTES
Flavour:
fruity balanced with tangy citrus and a spicy ginger finish
Aroma:
fruity with a pungent ginger note
Infusion:
straw
Ingredients: Organic ginger, Organic lemon balm leaves, Organic licorice root, Organic white tea, Organic pear pieces, Natural flavours
TEA TYPE : WHITE TEA
Tea Forté Ginger Pear white tea is sourced from the most famous tea region of China. This tea originates from the Da Bai tea bush which is harvested in the spring. This smooth white tea is infused with lemon balm, an herb that is a member of the mint family. It contributes a clean, fresh citrus profile and is believed to have strong soothing effects and to encourage relaxation. The Ginger brings a spicy note and blackberry leaves, mallow flowers and flavoring add a fruity dimension.

Ingredients and certifications may differ slightly between our pyramid infusers and loose tea canisters for this blend, see package for details.