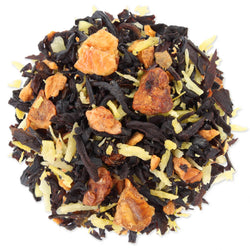 VANILLA PEACH
Warm, indulgent and richly fragrant with tropical coconut.
TASTING NOTES
Flavour:
a warm, enveloping blend of familiar vanilla and peach
Aroma:
 slightly sweet and woody with a hint of vanilla
Colour:
deep brown
Ingredients: Organic black tea, Organic apple pieces, Organic coconut pieces, Organic vanilla pieces, Natural coconut flavour, Natural peach flavour, Natural vanilla flavour
TEA TYPE : BLACK TEA
Tea Forté's Vanilla Peach is an exceptional black tea blend, pairing the familiar comforts of vanilla and peach in a deep, rich steep. Rounding out its flavor profile with organic apple and coconut pieces, a mug of this satisfying beverage is like a hug from an old friend. Perfectly balanced and comforting, its coziness is both welcoming and warm.

Complex and assertive, black tea is the most popular variety of tea in the western hemisphere. It undergoes four stages of production: withering, rolling, oxidation, and drying or firing. The result is a bold tea flavor with a moderate amount of caffeine -- around 40 mg per cup. Tea Forte's tea blends are carefully crafted with the finest ingredients, curated for their ability to blend well with one another in inspired pairings that bring about a sense of comfort, invigoration, and even delight. Vanilla comes to us primarily from Mexico, bringing its sweet, subtle sense of indulgence to a beautiful blend made to uplift all who enjoy it.

When enjoying a cup of Vanilla Peach, a spoonful of sugar brings the vanilla closer to the forefront as peach and coconut round out the experience in the background. Tea purists may enjoy this elegant blend simply steeped in water without accouterments, although its richness pairs well with milk for those who enjoy a creamier tea.