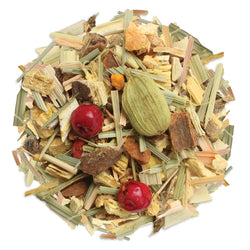 TURMERIC TANTRA CHAI
An exotic, soothing blend of lively Indian spices and licorice.
TASTING NOTES
Flavour:
a sweet, unique pairing of licorice and lemongrass
Aroma:
tropical and green with subtle complexity
Colour:
honey-coloured
Ingredients: Organic licorice root, Organic lemongrass, Organic ginger root, Organic cinnamon, Organic cardamom seeds, Organic cardamom pods, Organic turmeric root, Organic clove buds, Organic pink pepper, Organic black pepper
TEA TYPE : HERBAL TEA
Tea Forté's Turmeric Tantra Chai is an elegant herbal tisane quite unlike any other. Wildly popular in many Asian cuisines and widely used in traditional Ayurvedic medicine, turmeric brings a pungent dose of herbal flavor to this blend, pairing perfectly with its notes of licorice and lemongrass. In India, spiced chai (the Hindi word for "tea") has long been a tradition focused on black tea as its base, but chai's global evolution has broadened to include additional varieties of tea leaves and tisanes. As a result, delightfully unique blends like this have emerged. It's both difficult to describe and wonderful to enjoy.

Also infused with ginger root, cardamom pods, clove buds and just a hint of pepper, this tisane blend has a soothing effect on the throat and an almost soup-like consistency, slightly less transparent than most herbal elixirs. Smooth and sweet with a hypnotic finish, it delivers a level of comfort that leaves some tea enthusiasts craving a second cup as soon as they've finished the first. Thankfully, this blend is free of caffeine and calories, making it an indulgence free of consequences, too.

Turmeric Tantra Chai may be enjoyed with milk or sugar to taste, and can also be prepared as a latte with warm, frothed milk. Many tea enthusiasts prefer it without accompaniment, allowing its delicate mélange of flavors to stand on their own.