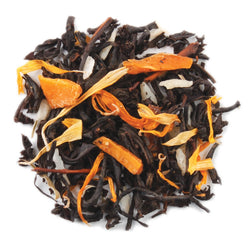 PEACH BRÛLÉE
A refreshing juicy-sweet tea, lush with marigold flowers and mango.
TASTING NOTES
Flavour:
 fruity and sweet with a creamy finish
Aroma:
 fruit, coconut
Colour:
g
olden
Ingredients: Fair trade certified™, O
rganic mango pieces, Organic peach pieces, Organic coconut pieces, Organic marigold flowers, Natural flavours
TEA TYPE : BLACK TEA
Rich and fragrant with floral and fruit, Peach Brulee is refreshing dessert tea that is part of Tea Forte's signature Noir collection. All teas in the Noir collection are made from first flush Assam black tea leaves that offers a deep, robust steep even a coffee-purist will enjoy. The ingredients of Peach Brulee include organic black tea from India, organic mango, organic coconut, organic marigold blossoms from Egypt, and natural flavors of cream, vanilla, and peach. The combination yields a sweet and boldly fragrant tea that finishes with a tropical note. Forte's Peach Brulee is fair trade certified, kosher certified, and USDA Organic.

Ingredients and certifications may differ slightly between our pyramid infusers and loose tea canisters for this blend, see package for details.