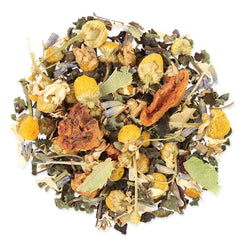 LEMON LAVENDER TEA
This bouquet of garden herbs and flowers features sweet apple.
KOSHER CERTIFIED | USDA ORGANIC
TASTING NOTES
Flavour:
 chamomile, lavender, apple
Aroma:
 chamomile, lavender
Colour: 
golden yellow
Ingredients: Organic chamomile flowers, Organic lemon balm leaves, Organic apple pieces, Organic lavender, Organic lemon peel, Organic linden flowers
TEA TYPE : HERBAL TEA
Lavender has been cherished for centuries for its sweet, relaxing perfume. Its name comes from the Latin root lavare, meaning "to wash," since lavender was frequently used in soaps and hair rinses. Brewed as a tea or massaged into skin, lavender is a common home remedy for headaches, respiratory illness, muscle aches and digestive distress. Rubbing the oil into one's temples may mitigate migraines, while rubbing it onto the neck, chest and back may clear lung passages in the case of colds, asthma or bronchitis. Such application may also calm muscle cramps associated with menstrual pain or arthritic disorders. Ingesting lavender as a seasoning or tea is thought to stimulate bile production, which reduces indigestion and gas. Studies showing lavender's effectiveness in producing calming, soothing, and anti-convulsive effects in those who use it.

Ingredients and certifications may differ slightly between our pyramid infusers and loose tea canisters for this blend, see package for details.