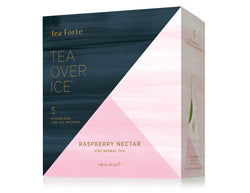 ICED RASPBERRY NECTAR TEA OVER ICE 5PK BOX
A refreshing blend featuring hibiscus, apple and orange.
Our Tea Over Ice® infusers are specially blended and balanced to be fresh and flavorful through our flash chilling process. Each box contains 5 pyramid infusers, available in 5 different blends (Blood Orange, Ceylon Gold, Ginger Pear, Mango Peach, Raspberry Nectar), or try our Sampler box containing one pyramid of each blend. Each infuser steeps 24 oz. in our 
Tea Over Ice Steep & Chill™ Pitcher Set
.
TEA TYPE : HERBAL TEA
Iced Tea was first popularized at the 1904 St. Louis World's Fair when the India delegation couldn't persuade attendees to try their hot tea in the sweltering summer heat. With ice added, the clean, refreshing taste was an instant success. Iced tea remains the most popular way that tea is enjoyed in the United States. As a nation that enjoys ice-cold refreshment, iced tea is a healthy, natural alternative.

Raspberries are in ellagic acid, a phenolic compound that may help prevent cancer, inhibit the growth of cancer cells and stop the growth of some cancers.

Hibiscus tea is made from the sepals (leaf-like flower parts that are separate from the petals) of the hibiscus flower. Drunk throughout the world, karkade, flor de jamaica, Jamaica, roselle and sorrel are just some of the names for hot or iced hibiscus teas.

Elevating iced tea to a higher level, Tea Forté transforms a cool glass of iced tea into an entertaining event. Experience authentic iced tea with the balance and beauty of our innovative Tea Over Ice. The skillfully hand-crafted ingenious design of our Steep & Chill glass pitchers delivers delicious and refreshing iced tea steeped and chilled moments before you drink it. Tea Over Ice unlocks the diverse and subtle flavors and rich cool scent to deliver the ultimate gourmet iced tea. Drinking tea plays a significant role in maintaining fluid balance, which is crucial for normal body function. Most adults need about two quarts of fluid daily, which should come from beverages and some fruits and vegetables.