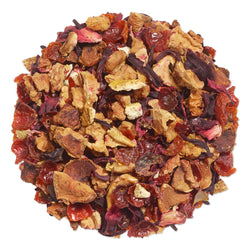 HIBISCUS BLOSSOM
A bright herbal steep with fragrant orange and hibiscus.
TASTING NOTES
Flavour: 
sweet hibiscus and subtle rosehip
Aroma:
s
weet hibiscus with hints of juicy apple
Infusion:
deep red fuchsia
Ingredients: Organic apple pieces, Organic rosehips, Organic hibiscus, Organic orange peel, Natural flavours.
TEA TYPE : HERBAL TEA
Delicately curated with the fragrance of deep pink hibiscus petals, the sweetness of apple and orange are tempered by calming rosehip in Tea Forté Hibiscus Blossom. This blend engages the senses with its fuchsia hue, fruity/floral flavor profile, and intoxicating scent. Meant to be enjoyed in the months approaching the summer solstice (or anytime the mood strikes), it invokes the feeling of strolling through rows of flowers as they unfurl for the season.

Created especially for the Fleur Collection benefiting the New York Botanical Garden, this blend was inspired by the fruits and flowers of the Garden itself. Carefully crafted by a tea sommelier using only the finest organic ingredients, it's an invitation to unwind and consider the joys of the natural world.

Herbal teas are a beautiful tradition enjoyed around the world, especially in the afternoon or evening as a calming ritual to soothe the body and mind. Free of caffeine and gently offering a health-forward serving of antioxidants, this herbal blend is an elegant choice for those who appreciate a delicate balance of tart and sweet.