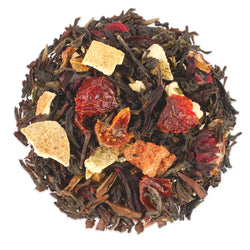 DARJEELING QUINCE TEA
Citrus, quince, and hibiscus lend balance to a prized black tea.
KOSHER CERTIFIED | USDA ORGANIC
TASTING NOTES
Flavour:
 notes of quince and citrus fruits
Aroma:
citrus, floral undertones
Color: 
red
Ingredients: Organic black tea, Organic hibiscus, Organic orange peel, Organic rose hips, Organic quince pieces, Organic pink grapefruit peels, Natural orange flavours, Other natural flavours
TEA TYPE : BLACK TEA
Tea Forte's organic black tea, Darjeeling Quince is an entrancing, delicious cup with high floral aromatics and a delicate briskness.

Besides being a readily available and delicious fruit, quince is also valued because of its important place in human health. Quince is a rich source of vitamin C, zinc, potassium, copper, iron, and dietary fiber. Also, quince is rich in certain organic compounds like catechin, epicatechin, limonene, and various other phytonutrients, all of which contribute to the health benefits of quince.